Table Tennis / Ping Pong Club
Come join us and play at the most active table tennis club in South Austin and surrounding Central Texas areas!
---
Fall Doubles Tournament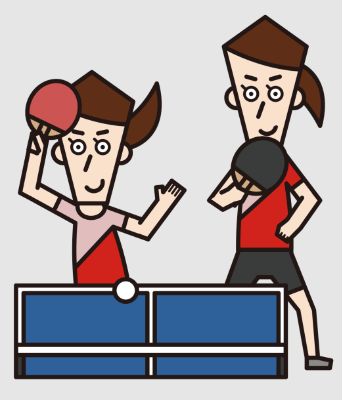 To kick off our Fall club schedule, we're holding a doubles tournament on Thur Oct 5 (our normal session time: 7-10pm). Arrival/warm-ups 7pm, matches start at 7:30pm.
This is a just-for-fun (non-sanctioned) "mixed doubles" -- "mixed" is optional! -- tournament, with single-set round-robin followed by best-of-3-match elimination bracket format.
Team partners will be assigned at the tournament from those who show up, primarily based on actual/estimated player ratings. Partner preferences will be respected as much as possible while keeping teams fair and balanced.
Entry fee is $5 per player. Players with a CT3 account can pay there, or cash will also be accepted. First and second place teams will receive cash/gift card prizes.
You must register in advance, so please fill out the form to let us know if you plan to play in the tournament.
>> TOURNAMENT REGISTRATION <<
---
Club Location
SoccerZone (basketball court)
9501 Menchaca Rd, Austin, TX 78748